Start of three-day block party brings out Jackson family, fans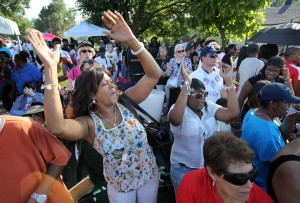 August 29, 2013 9:45 pm
•
GARY | Crowds of die-hard Michael Jackson fans from around the city and throughout the nation showed the King of Pop lots of love during Thursday's ultimate block party in front of Jackson's family home at 2300 Jackson St.
This first of three days of a celebration of Jackson's life – held on the 55th anniversary of his birth – included members of the Jackson family including his mother, Katherine Jackson, and his two sons, Prince and Blanket.
Katherine Jackson observed the musical acts, speeches and tributes to her son from a yard swing shielded from the hot sun by multicolored umbrellas, while Prince and Blanket joined friends on the modest home's small concrete front porch.
"We are so excited to be able to honor our native son and for this opportunity to celebrate the whole Jackson family, who have not forgotten Gary," said Mayor Karen Freeman-Wilson.
Freeman-Wilson and 5th District councilwoman Kimberly K. Robinson, both graduates of nearby Roosevelt High School, joined the crowd in applauding the school's marching band, drill team, dance team and cheerleaders as they performed.
Mary Singer and her daughter, Rebecca, traveled 1,400 miles from St. Petersburg, Fla. to honor Michael Jackson. Mary said she first saw MJ in 1968 entering the Motown Studios in her native Detroit as part of the Jackson Five.
"I was a senior in high school and the Motown Studios parking lot was just 2-1/2 block from my house. It was the place for kids to hang out," Singer recalled. "I've loved Michael Jackson ever since. There has never been another humanitarian like him and there never will be."
Rebecca agreed. "If we had a lot more people like Michael Jackson, we'd have a better world," she said.
Kerry James Jr., 20, of Gary, was drawn to the block party because Michael Jackson has been his inspiration for the last 12 years. A self-taught guitar player, James said the King of Pop continues to draw him through "his music, his creativity and his passion for music."
James Malinchak of "Secret Millionaire 2011" fame returned to Gary to host the festivities and helped make certain the stage was filled with performers from across the U.S.
One of those performers, Angel Diaz, took to the stage as a young Michael Jackson impersonator. The 11-year old from El Paso, Texas, was attired in the iconic sparkly silver suit from Jackson's video "Rock with You."
"Michael's life and his talent inspired me to be the best I can be," said Diaz, who has performed his act since age 6 in Las Vegas and all over Texas.
Malinchak saluted Michael Jackson as an artist, businessman and philanthropist. And it was in Gary that Malinchak said he learned how Jackson's spirit of giving back to the local and worldwide community was present in the person of Coach Tony Branch, who gave the keynote speech at the event.
When he spent a week in Gary portraying an out-of-work man for "Secret Millionaire," Malinchak met Branch. After watching the coach in action trying to raise money to fund basketball teams, Malinchak invested in those efforts.
Today Branch runs a foundation to keep kids engaged through basketball and is a motivational speaker.
During his keynote speech, Branch honored Martin Luther King Jr. on the 50th anniversary of his "I Have a Dream" speech along with Jackson.
"There are qualities of great leaders and both Martin Luther King and Michael Jackson had them. They cared more about other people than about themselves," Branch said. "They really knew no color. They didn't see color."
He said it's up to everyone to "fix the community."
"We can't wait for the government to do it. The government has its own problems. It has to come from within ourselves," he said. "We have to stop looking at color. We're all one family. This is about race, the human race."
THE MAN, THE MYTH & THE LEGEND
Born on Aug. 29, 1958, Michael J. Jackson stands as an example of selflessness, said James Malinchak of "Secret Millionaire 2011" fame during Thursday's event.
Malinchak gave a laundry list of Jackson's achievements:
• The most successful entertainer of all time, according to the Guinness Book of World Records
• Launched two increasingly popular dances, the Robot and the Moonwalk
• Was twice inducted into the Rock and Roll Hall of Fame in Cleveland
• Winner of 13 Grammy Awards and 26 American Music awards
• Invited to the White House on May 14, 1984, by President Ronald Reagan to receive an award
• Donated $8 million from The Victory Tour to various charities
• Co-wrote "We Are the World" with Lionel Richie in 1985 to raise millions for hunger relief
• Donated $500,000 to the Negro College Fund
• Gave away all profits to "Man in the Mirror" to charities