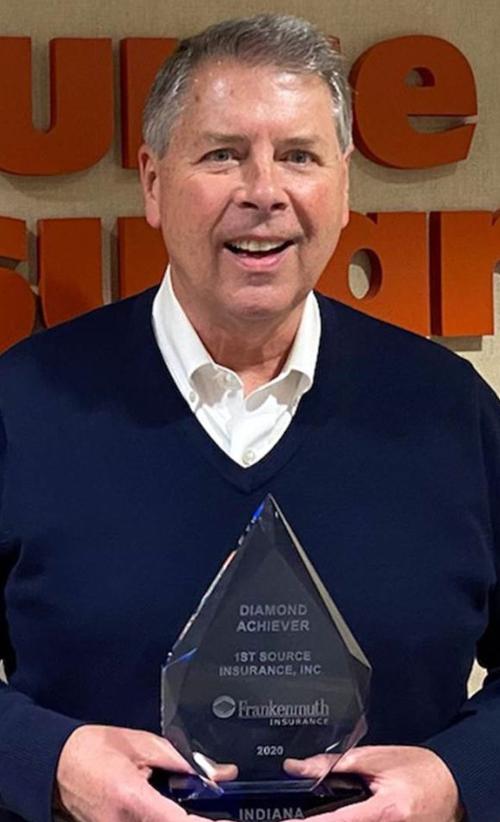 1st Source Insurance, a subsidiary of South Bend-based 1st Source Corporation, the parent company of 1st Source Bank, won a Diamond Achiever Award in Indiana.
Michigan-based Frankenmuth Insurance honored 1st Source Insurance, which has local offices in Merrillville, Michigan City and Knox, for the highest overall rating based on performance as one of its independent agencies. It was recognized as a top Frankenmuth agency based on growth, profitability, length of appointment, and policy retention.
"We truly value our partnership with 1st Source Insurance and are pleased to present their management team and staff with our Diamond Achiever award," Frankenmuth Insurance President and Chief Operating Officer Fred Edmond said. "This recognition exemplifies their commitment to providing quality, professional insurance products and services to our mutual clients."
1st Source Insurance, which has 10 offices across Northern Indiana, has been licensed with Frankenmuth Insurance since 1999. It is one of the insurance carrier's preferred independent insurance agency partners and was honored as one of the most successful of its more than 700 independent agencies.
"I am honored to accept this award on behalf of our entire team. This award is a reflection of their dedication and hard work, and also would not be possible without our incredible underwriting team at Frankenmuth," 1st Source Insurance President John Ball said. "We appreciate the tremendous value that Frankenmuth Insurance provides to our mutual clients each and every day."